Kayak nicaragua Kayaking Rio San Juan Kayaking Nicaragua
Hospedage Ecologico located in Refugio de Vida Silvestre Los Guatuzos
Kayaking Adventures ...
O
n Rio San Juan Nicaragua, Since 1998 Medio Queso, Rio Frio
, Laguna de Perla, Orinoco,
National parks / Reserves : Los Guatuzos, Medio Queso, Indio Maiz, Solentiname Archipelago, sabalo, El Castillo
5mn away from San Carlos, Rio San Juan, Nicaragua in peace and Natural . Tel Lodge (
505) 88 49 06 00
Index Kayaking Rio San Juan Kayaking in Solentiname Archipielago E-Mail Philippe
Kayaking Rio San Juan Adventures ...
San Carlos to San Juan del Norte 7 days, 6 nights...
PRICING FROM $ 600 PER PERSON ALL INCLUSIVE ... (Minimum 2 Guests, )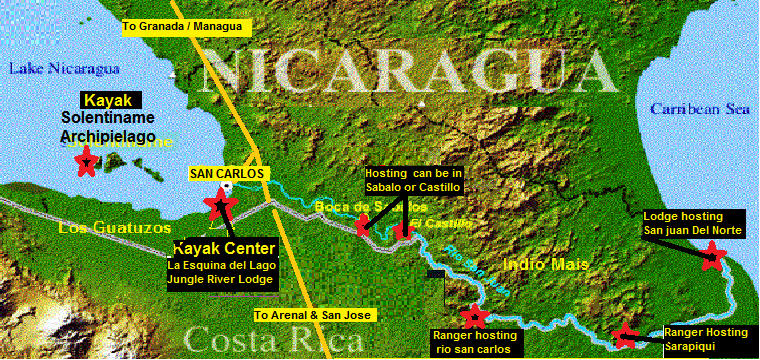 7 Days 6 Nights Trip Kayaking Rio San Juan Nicaragua from San Carlos to Caribean
We
also can do this trip on 5 days 4 nights... or add some days..
All depend on time you have available.. Wishes ...Expectations
A lot of Options available We can or not includes meals ..
lodging can be at Rangers Camps or in Lodges..
( Trip can also be organized from hotel in Managua or Granada.. Or with airport Pick up at International Airport of Managua Nicaragua or San Jose Costa Rica then Transfer to Rio San Juan .. in such a case ad 1 day/night.. Etc..)
Please send me email explaining what you Expect..Will forward itinerary and acurate Pricing .
E-Mail Philippe
7 Days 6 Nights Kayaking Rio San Juan from San Carlos
Trip is on Rio San Juan 120 miles going through and around: San Carlos, Isla del Pitasso, Medio queso, Sabalo, Rio Pocosol, El Castillo, Indio Mais Reserve, Infernillo, Bocana San Carlos, Bocana Sarapiqui, La Tigra, El Delta... San Juan de Nicaragua...
Day 1
We will meet you in San Carlos Transfer to Lodge
Briefing .. Practice on Rio Frio , Bird and animal watching , Dinner night at la Esquina del Lago Lodge in Refugio de vida silvestre Los Guatuzos,If wanted Cayman Tour at Night
Day 2 San Carlos to Sabalo 45 km Padling 5 to 8 hours
Breakfast

,

Kayaking Down river Rio San Juan , El Pitasso, Medio queso

.

Lunch on River banks

.,

Dinner Night in Sabalo at nice lodge on River Banks,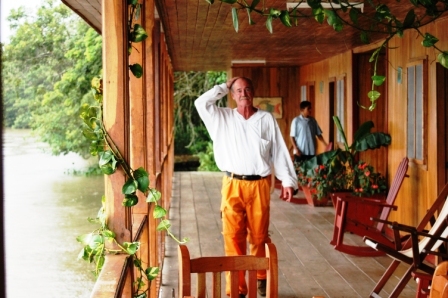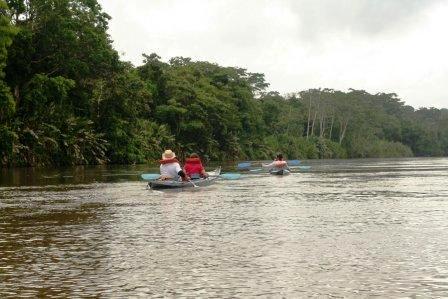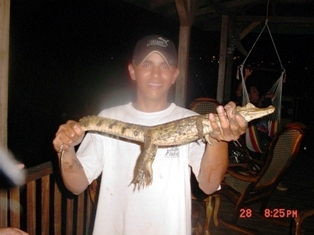 Day 3 Sabalo to Barthola 20 km Paddling 4 to 7 hours
Breakfast

,

Kayaking rio Sabalo Cacao Plantation...

Rapid del Toro

Lunch in El Castillo,

Visit of Fortress and Museum

Diner Night at Barthola, in Indio Mais Reserve Treking posible close by Reserve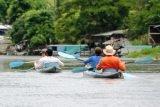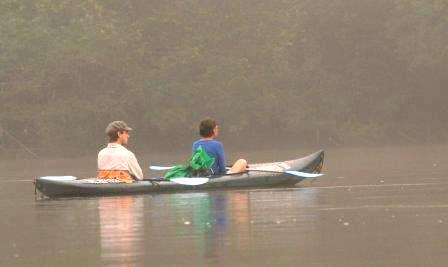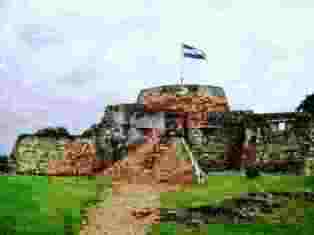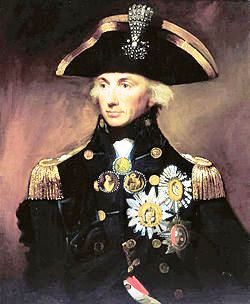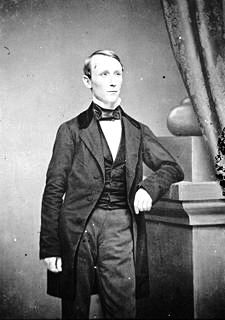 Day 4 Barthola to Bocana Rio San Carlos 40 km Padling 4 to 7 Hours
Some Rapids on that day Machuca..Infernillo.. Gold rush wrecks on river banks...
Breakfast
Kayaking Rio Barthola or Trecking in Rio Indio Mais Reserve,
Lunch on river banks or aboard ... Rapid Infernillo,Gold rush time boat Wrecks..
Dinner Night in Indio Mais Reserve at Bocana Rio San Carlos Ranger Station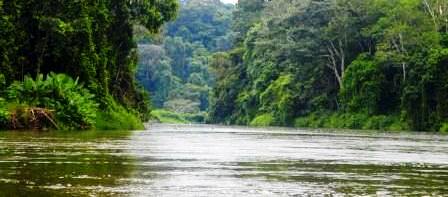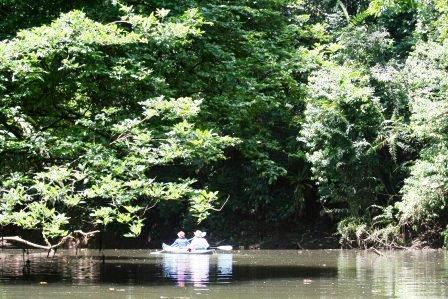 Day 5 Bocana Rio San Carlos La Tigra 50 km Padling 5 to 8 Hours
Breakfast... Kayaking Down River
Lunch River banks or aboard
Dinner Night in Indio Mais Reserve at Ranger Station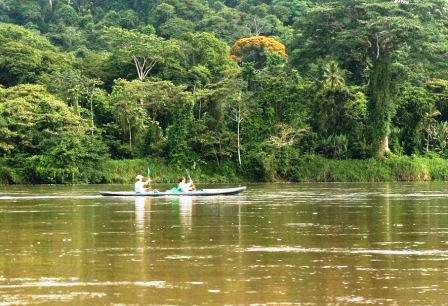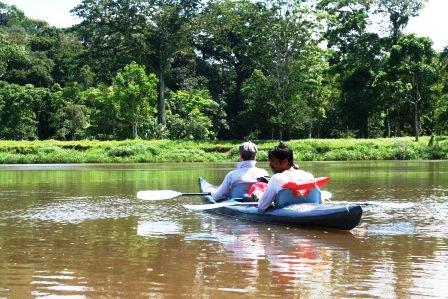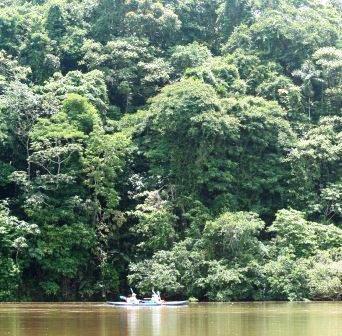 Day 6 La Tigra

San Juan Del Norte 50 km
Padling 5 to 8 Hours
Breakfast
Lunch river banks or aboard
Dinner Night San Juan de Nicaragua Grey town at Marthas Place
Day 7
Breakfast
Departure day Return up River or Flight to Mananagua..(See Options)
Options

* For better comfort we have hamocs, mosquitoes nets.. Camping tents.. Camping bed

( this is useful when in indio Mais Rangers station .. 2 nights )

* Return San Juan del Norte to Managua with Direct flight from San Juan de Nicaragua to Managua ( CAREFULL On Thursday and Sunday ONLY 1h flight .. Arrival in Managua International around 3.30pm)

* Return can also be with Public boat San Juan Norte San Carlos 7h then transfer to Managua
Notes:
* We can custom this Rio San Juan Kayak Adventures...
Put emphasis on what you are the most interested in History, Arts, Wild Life, Birding, ....

*

We can add or quit some days

b

ut for trip all the way down to the Caribean sea

(120 miles )

has to be on a minimum of 5 Days 4 Nights.... Eventualy 4 days 3 nights...

We can custom your trip ... also organise shorter trips...

From San Carlos to El Castillo ( on 1 or 2 days )

From sabalo to Castillo to San Juan de Nicaragua Caribean sea ( 4 days 3 nights )

We also offer Kayaking Adventures in Solentiname Archipelago,

can be on one day from my Lodge or multi day.. with over nights etc..
The more I know upon your expectation the easier to built the convenient trip for you
E-Mail
Philippe
Tel Lodge (
505) 88 49 06 00
I
ndex
Kayaking Rio San Juan
Kayaking in Solentiname Archipielago
E-Mail
Philippe